The Hungarian government is ratcheting up its anti-EU refugee settlement quota campaign with a series of new ads and local efforts aimed at mobilizing voters for the October 2 referendum on the so-called obligatory EU plan.
A color brochure has been sent to every Hungarian household, encouraging voters to say "no" in the referendum. While it is clear that the brochure was financed by taxpayers, it is unknown how much it cost to produce and who was responsible for editing and distributing it.
Full mobilization
According to pro-Fidesz daily Magyar Idők, the ruling party is using as many local activists to campaign for the referendum as it would for general parliamentary elections. Leftist daily Népszabadság reports that starting Monday the government will begin distributing leaflets in public areas.  Beginning September 10 some 200 public forums are to be held with the participation of Fidesz politicians in support of securing a "no" vote. All of this is in addition to the billboard, radio, print and television campaign that has been going on for months.
Fidesz politician András Gyürk, tasked by Hungary's ruling party with running the referendum campaign as well as the 2018 general election, has asked Budapest 8th district mayor Máté Kocsis to lead the campaign in Budapest. (Kocsis received international attention for his efforts to criminalize homelessness in his district, as well as for his position on illegal drugs and for making public homophobic slurs.)
In addition, Kaposvár mayor Károly Szita has been put in charge of the "Cities and Villages Against Forced Settlement" movement, whereby local governments are bombarded with letters from the party, encouraging them to use every resource available to mobilize local groups to cast a "no" vote. This means that publications, billboards and other public areas can be used by local governments to campaign for the referendum at public expense.
Already in the town of Velence, the local newsletter has run a full-page ad encouraging voters to turn out on "self-pride day" for the "protection of the Hungarian homeland." "With pride and heads held high, we can confront the foreign world of Islam, and the vandals who desecrate our women and girls and rob us of our possessions!" reads a letter on the Fidesz-controlled Velence municipal government website.
The numbers don't lie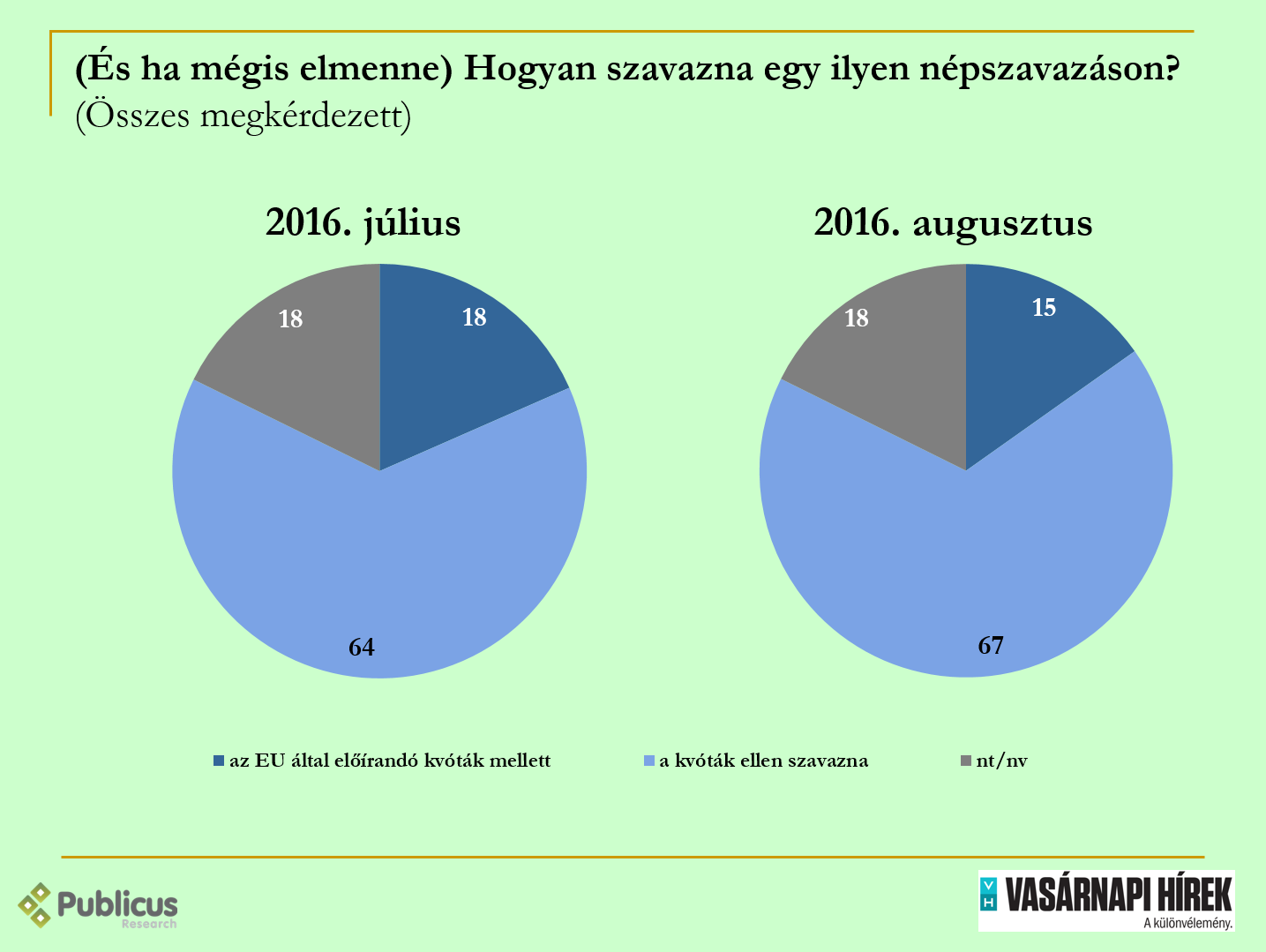 Hungarian polling firm Publicus has released the results of a representative poll it conducted between August 12-22 concerning the attitudes of Hungarians towards refugees and the upcoming referendum. According to the poll, eight out of ten Hungarians think too many refugees have arrived in Europe, and it would be best if they did not settle here because they cause problems wherever they show up.
The results of this poll show that Hungarians have a much higher aversion to refugees than they did only one year ago. The majority of those polled today no longer believe that refugees should be treated more humanely, and two-thirds believe they have no responsibility towards the refugees.
Two-thirds of those polled could be qualified as "anti-refugee", and only every fifth person polled expressed some kind of solidarity with the refugees.
Regarding the perceived importance of the upcoming referendum, two-thirds of those polled said they do not believe people can be forced to move somewhere they do want to move to.
More than half of those polled said the quota issue could be resolved without a referendum, and almost two-thirds said the government is trying to play on people's fears.
Half of those polled promised to take part in the referendum, and two-thirds said they would vote against any quota.
Yes, no, Yes-No? 
Given the overwhelming numbers reflected in polls on the likely outcome of the referendum, opposition leaders are devising new strategies. Együtt (Together) leader Viktor Szigetvári has called repeatedly since July for a televised debate on the EU refugee settlement quota, maintaining that voters should not form their opinions based solely on paid advertisements by the government, but through public debate among parliamentary representatives. His requests have thus far gone unanswered by MTV and ATV. Szigetvári and other opposition politicians from the PM (Dialogue for Hungary) and MoMa (Movement for a Modern Hungary) parties have initiated a boycott campaign against the referendum, encouraging people to stay home on the day of the vote, with plans to erect 400 billboards around the country starting September 15.
The referendum requires the participation of at least half of the roughly 8 million eligible voters to be valid, of which a majority must vote "no" to the resettlement of refugees for the government to win its desired result. The opposition parties know that, based on recent polls, a victory for the "yes" vote is nearly impossible, and they are banking on the failure of the referendum due to lack of adequate turnout. Thus boycotting the referendum is their most feasible strategy.
The Hungarian Civil Liberties Union has taken a slightly different approach, calling for voters to cast invalid votes because it says the referendum is "unlawful" and "incompatible with the concept of human rights." An invalid vote would be a Yes-No vote, which would not contribute to the total of participating voters. Civil rights group Helsinki Commission has also advocated casting an invalid vote, as has Hungarian joke political party Kétfarkú Kutya Párt (Two-tailed Dog Party). Party president Gergely Kovács told Átlátszó blog in an interview: "A boycott by itself is not enough. If someone doesn't go to vote, it isn't clear that the whole thing doesn't interest them or that they are against it. We think that a stupid question deserves a stupid answer. With an invalid vote you can express what you think about the whole thing. You care but you aren't willing to play by their rules of the game."
Human rights group Amnesty International has also entered the fray. Index.hu reports that the group has begun a #knowmore (#tudjmegtobbet) campaign, encouraging voters to learn about the most important information concerning refugees, asylum seekers and the referendum.
Can't lose for winning
Whatever their disagreements on EU immigration policy, opposition parties agree the referendum is meaningless and a horrific waste of taxpayer money.  Many critics argue that it is a cynical attempt to divert public attention from more pressing issues, such as corruption, health-care and education. They point out that Hungary is bound by the terms of its accession to respect European Council decisions, and such decisions are not subject to the outcome of referendums held by individual member states.
Regardless of the outcome, many believe that Prime Minister Viktor Orbán will turn the situation to his advantage by branding as "undemocratic" those political opponents who called on their supporters to boycott the referendum or cast an invalid vote. Minister Overseeing the Prime Minister's Office János Lazár has already said that those calling for a boycott are not actually democrats.