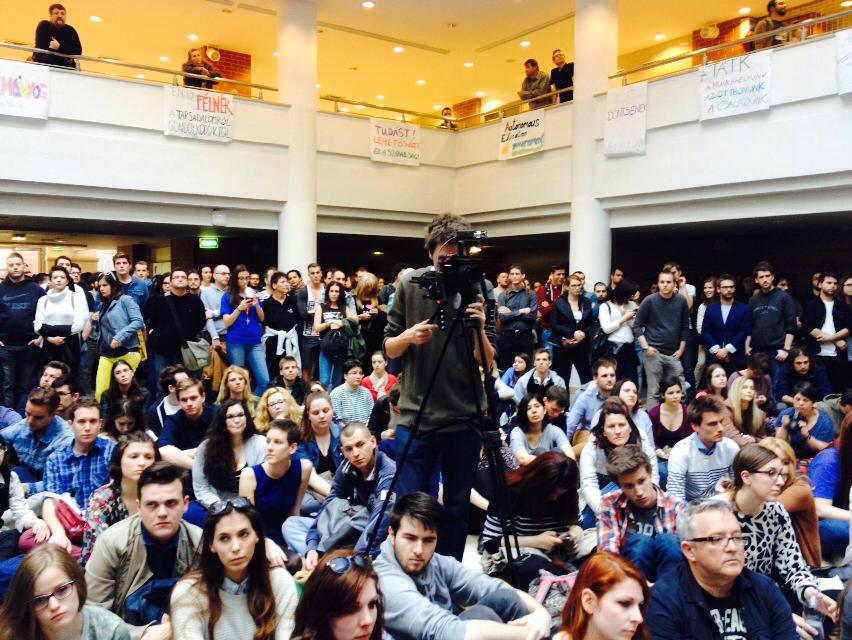 Translation of an article by András Zsuppán "Egyetemi reformocska" ("A little reform at universities") appearing at the 30. April issue of pro-government weekly print Heti Válasz pp. 14-17.
International relations courses could be targeted by the government to make way for their own diplomat-school at Ludovika (the National University of Public Administration – ed.). Following the eruption of the scandal, the undersecretary responsible for higher education imposed damage control measures leaving only the discontinuation of a few dozen minor courses instead of the planned large-scale cleansing.
Three years ago, university student protesters had to invest much more energy in discouraging the government from introducing general tuition fees. Now a smaller protest against the announced plans of a new structure of higher education to be introduced in 2016 was enough for the government to almost immediately retract most of its plans. University officials stood up for the cause in an unprecedented unity as well at a forum organized to protect the International Relations department, even Barna Mezey, ELTE University's rector delivered a speech.
The issue of the eliminated of a number of courses by the government was on the table for a long time. It was already raised under the second Orbán government when officials argued that the structure of higher education is too fragmented in Hungary and there are a number of over-specified baccalaureate tracks. Ten years ago, when universities have been restructured for mass-education and the so-called dual Bologna-system (oseparate Bachelor and Masters degrees instead of five-year tracks-ed.) new courses were established without limits. They attempted to attract new students with catchy course titles, while many of the universities at the same time were unable to provide the proper educational and professional background and therefore the quality of these degrees remains questionable.
Sustaining a fragmented structure like this is indeed a waste of resources. There are, however, courses that are small but still inevitable in Hungarian culture and science, mainly in the area of humanities, such as Altaic language studies. Doing away with these just because they have a low number of students would be a grave sin. But if a course is having trouble attracting even the minimal number of four or five students to remain operational from year to year while at the same time while at the same time failing to produce any benefits, then discontinuing such a course would be the best option for everyone involved.
In 2013 the government reached an agreement with the Conference of Hungarian Rectors. According to this universities would be responsible for conducting this selection. This has never been realized: institutes of higher education argued for keeping all courses, as discontinuing any of them would result in termination of work contracts and the winding up of whole departments.
At the time of his appointment, László Palkovics, undersecretary for higher education, was tasked with conducting this long overdue selection. And despite it being announced in several occasions that the Ministry of Human Resources had slated roughly 10-15% of all university courses for termination, nothing happened in this regard for a full year. In reality, Palkovics was a man of consensus and not conflict coming from the academia himself, and did not wish to act as a government demolition squad. By now a very restrained plan for reforms has been proposed.  But despite being moderate, it was able to stir up conflicts.
The most audacious measure, the discontinuation of Communication and Media Studies undergraduate programs around the country – reportedly on the table for a long time – eventually did not become part of the bill. Instead, an irrational idea emerged, that of doing away with all existing state-funded international relations courses.  A common cause around which all academic actors could rally, this was the spark that triggered the protests on the part of students and university teachers. All other planned measures, such as restoring the five year tracks in psychology and agrarian Engineering, discontinuing the industrial design and mechanical engineering courses, were such narrow, professional issues, that putting them on a protest sign would have been difficult anyway.
But how was this idea, targeting International Relations education in particular, even conceived? No factual analysis of the situation could have resulted in such a decision. The usefulness of a certain course can be measured by three criteria: a) is there sufficient demand? b) how much does a fresh graduate make, and c) what is the ratio of students being able to find a job in the area of their degree course. International relations is a useful and effective course throughout the country according to these criteria. Students wishing to study this must pay tuition. In order to gain admittance, they must achieve an accession threshold of 456 points which, at ELTE and Corvinus University, is extremely high.  Yet students are more than eager to pay the HUF  280,000 (USD 1,032) tuition fee per semester. (IRES courses are advertised at 16 institutes of higher education throughout the country with some courses on the countryside being significantly lower in quality compared to Budapest).  The degree is rather useful. According to 2013 data the medium wage earned by graduates is a monthly gross HUF 224,000 (USD 826), while 70% of the graduates are working in the field of international relations.
This multidisciplinary course is taught around the world under the name of international relations. It offers legal, economic and historical knowledge from an international perspective. Accusations that the course of study only produces secretaries is simply not true. It is a kind of general course laying the groundwork for various occupations requiring international relations skills. It is so popular and attractive that it can sustain itself even if the state does not provide a single penny for it.
Zsolt Rostoványi, rector of Corvinus University and the founder of its IRES course, told Heti Válasz, adding that:
For me personally discontinuing the course would have been unacceptable. Yet I agree with the general notion of reforming the content of it. We have an agreement with the undersecretary's office about doing exactly this in the following months, incorporating student expectations in the new concept. Most of them would like to see a more practical oriented education on the course, and an increase in subjects taught in foreign languages.
The comment reflects the peace achieved after the agreement, but the question remains: how did this idea of discontinuing the course come up in the first place? Nobody has a reasonable explanation for this, and this can reflect on some unresolved questions present on the field of the education of diplomats, which is an issue inherited from the previous (pre-1989 –ed.) political system. At that time Hungarian diplomats were trained at two places: the international relations course at Karl Marx University of Economics, the predecessor of Corvinus University, and Moscow's Institute of International Relations (MGIMO). A Western-style diplomatic academy, with the ethos of the trade itself, was non-existent. This was not by coincidence, as there was no need for such a course in a dictatorship. Since the change of regimes the idea was raised on multiple occasions to organize such a diplomat's school, but without substantial results.
This February, however, the government wished to promote the Faculty of International and European Studies at its recently founded National University of Public Education (NKE or Ludovika – ed.).  Clearly they are doing everything to make this a new center of elite education, but under normal circumstances competing with both ELTE and Corvinus would be an extremely difficult task.  As always, it is easier to simply disqualify all opponents from the race.
This is a mere assumption at this point, yet it is more rational than the swiftly designed scare-stories about how the government simply hates social sciences, and would destroy all institutions engaging in those. Whatever the exact reason, at the Roundtable for Higher Education last week the government abandoned most of its ambitious reform plans, leaving all IRES courses at place.
In the case of numerous courses, we were able to reach satisfactory terms, leaving only the few courses like mechanical manager and social studies BAs. We involve experts in the remaining discussions. The agreement can only be considered as having been finalized when it reaches the format of an official proposal. We would be very glad to finally see this published.
Tibor Gulyás, the president of the National Conference of Student Councils explained to Heti Válasz.
We also acknowledge that numerous minor courses will be discontinued.  This is acceptable, we agree with the profile clearing methods. Where there are only two or three students applying for a course for years, than it would not merit maintaining a department or institute of its own. Yet we insist on sustaining all courses actually representing a cultural value as special minor tracks.
He added.
It remains to be seen how many discontinued courses Palkovics would eventually be able to present to the government. Some actors with an insight into the process informed Heti Válasz that they reckon a two dozen courses to be cancelled altogether, others estimate this number to 10-15% of all university courses.
The last serious field of battle is the question of the autonomy of universities. The government backed down on the idea of curbing student council rights, but they would insist on a board consisting of ministerial appointees, so-called "university consistoriums" to be established at all institutions. This would be responsible for representing the interests of the sustainer, the government, in the same way as recently appointed university chancellors. It is not clear why they want to duplicate this role. The consistoriums would also receive a veto at rector appointments and at accepting university development plans. According to György Fábri, deputy rector at ELTE University "the establishment of consistoires is contrary to the Fundamental Law in the same way as the 2005 plans for a board of directions or the 2006 designs for an economic council were unconstitutional." Back then the Constitutional Court overturned these plans citing the principle of state university autonomy, saying that such measures would violate autonomy on the field of academic research. According to Fábri, the present situation is very similar to that.
Seeing earlier drafts last October, the student representative bodies proposed a plan for universities to introduce a Western-style Board of Trustees system, and also signified a number of points they filed with the Constitutional Court for examination. "My opinion on this system is the same as in the case of university chancellors: a lot depends on what kind of people will be appointed" Zsolt Rostoványi said. "We have experienced the gravity of problems arising from a bad relationship between a university finance director and university leadership. Now, however, we have an excellent chancellor. If financial experts of the same quality will be appointed to consistories, arriving from the circles of the university, then we will raise no objections against the new body, providing issues of conflicting authorities (eg. the consensual right of the new appointees) will be further refined."
The Conference of Hungarian Rectors is yet to issue an official opinion regarding the plans. It is clear, however, that the case of consistoires is by far not as sensitive a question to bring students on the streets. And at the moment this is the most important for the government: despite declining popularity and recent defeats in by-elections, the fire of the autumn protests seems to be extinguished by now, and discontent is not present on the streets. And the government has no intention to change this by provoking the creation of a new student movement.